---
Microsoft Cloud ERP for Cannabis Growers and Processors
SilverLeaf Software
From Seed to Sale, Tracking and Compliance has Never Been Easier.
Complete business management solution for Cannabis Growers and Processors >> The cannabis industry is expanding at an astounding pace, and companies competing for a share of this market face unprecedented challenges – and extraordinary opportunities. Often, we see rapidly growing cannabis companies running multi-million dollar operations on entry-level accounting software and spreadsheets. Lots of spreadsheets.
Simplified solutions (like QuickBooks or seed-to-sale solutions) give you one-dimensional insights, then make you do the heavy lifting to get the answers you need. Disconnected, incomplete applications rob the organization of the visibility needed to sustain growth, expansion, and profitability.
Don't let the

wrong

cannabis software hold you back.
Ditch the spreadsheets. Gain the visibility you need to run your operations effectively. Your business is growing and facing extraordinary opportunities in the cannabis industry. How you manage your systems and processes effects every part of your business, from seed to sale through tracking and compliance and fulfillment.
Introducing SilverLeaf, the cannabis solution built to integrate all the functions you need to optimize your cannabis business, built on top of the best-in-class ERP, Microsoft Dynamics 365 Business Central.
Calculate your cost per gram.
Separate medical and adult-use pricing.
Design transparent delivery methods. 
Achieve uncompromising quality control
as regulations change.
Committed to Cannabis, Experts in ERP
At SilverLeaf, our team is committed to the complex world of cannabis and to delivering world-class service in delivering Microsoft solutions, with 30 years' experience implementing ERP. This includes everything from integration to Microsoft Office, to advanced reporting and the ability to tailor to your specific needs.
Finance, Accounting & Compliance
Inventory & Procurement
Cultivation & Quality Controls
Sales & Delivery
SilverLeaf enables your compliance strategy, streamline for greater control, and gain real-time insight across leveled perspectives
Financial Reporting
Audit Trails
State-Specific Tax Compliance
Metrc, BioTrackTHC, Leaf Data Systems
280e Strategy, GAAP and IFRS
Item Cost Analysis
Know your costs, manage your processes, and optimize your operational resources with SilverLeaf.
MRP Planning for Cannabis growers
Batch Measures
Machine Scheduling
Strain Management
Full Lot/Batch Traceability
Replenishment Triggers
Supports State Tracking
Optimize your grow facility and all associated costs.
Plant Tracking by Tag
Track Cultivation Costs Management
User Definable Tests and Measures
Results Tracking
Multiple COA Layouts
Internal Controls for QC & QA
Streamline order placement, scheduling, and invoicing to best serve your customers.
Chain of Custody
License Management
Google Maps Delivery Dispatch
Manifest Creation
Order Entry Matrix
Manage Your Entire Business in One Place
We've spent three decades implementing and configuring ERP for industry leaders and value Microsoft Dynamics 365 Business Central as the foundation of SilverLeaf because it was designed for manufactures and distributors.
D365 Business Central (BC) also gives our team the flexibility to configure extensible solutions that are industry-specific for cannabis growers, yet manageable for a lean IT team.
Maintain Regulatory Compliance
Integrate and reconcile your cannabis growers data with state tracking systems (e.g. Metrc, BioTrackTHC, Leaf Data Systems). Support the execution of your 280e strategy. Track and maintain state and local business tax requirements for cannabis growers (sales, excise, cultivation). Utilize auditable financials, with robust tracking of system usage throughout, and support GAAP and IFRS environments.
All these necessary system integrities, process assurances, and tools are built into SilverLeaf ERP for Microsoft Dynamics 365 Business Central.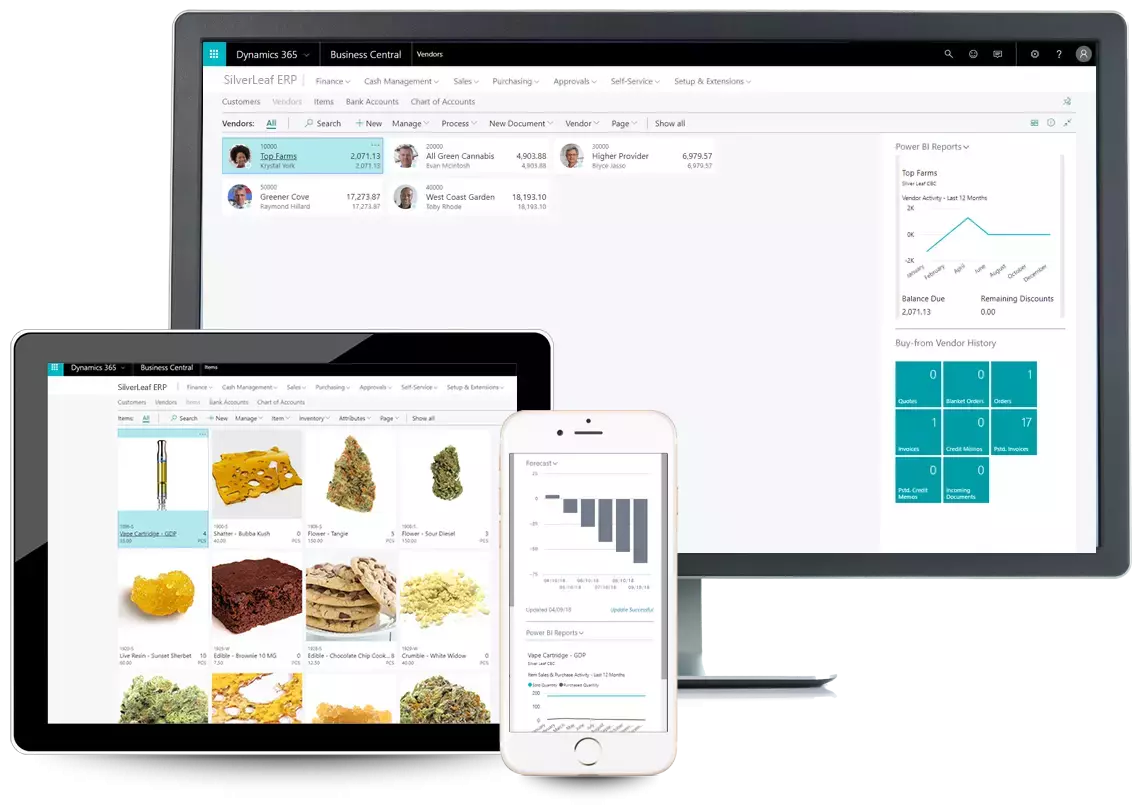 "The cannabis market is growing…fast…and on many fronts.  Our clients range from growers to processors and distributors and all have extremely complex regulatory compliance to deal with.  They need more than a fly-by-night software solution.  They need the real thing and a partner they can depend on.  With real-time decision support systems created with Microsoft Power Platform, SilverLeaf turns Dynamics 365 Business Central into a comprehensive agribusiness cloud ERP that manages, tracks, schedules and measures to achieve the best possible use of your resources."
Sara Silver, Practice Director Horticulture
Cannabis Growers and Processors | SilverLeaf
Why SilverLeaf for Your Cannabis ERP Software Solution?